"World's Largest Chambers"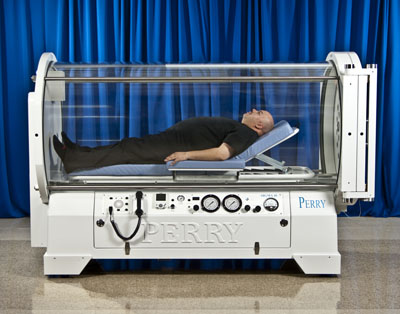 Download Sigma 40 Hyperbaric Chamber PDF Brochure 40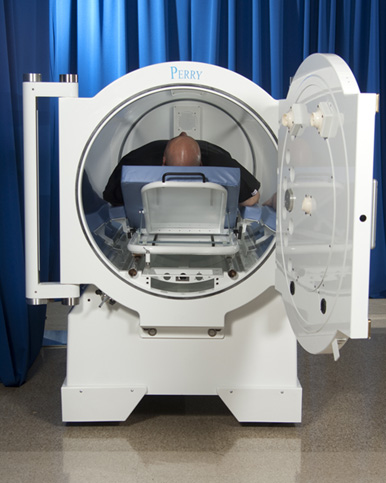 Continuing as the leader in the industry, Perry is proud to introduce the SIGMA 40 monoplace hyperbaric chamber to its line of innovative products. This system has a 40.5" Internal Diameter chamber, the largest in the industry, which significantly reduces the incidence of noncompliance due to claustrophobia as well as allowing the treatment of the bariatric population. While the internal diameter has increased, the new technology used to build the Sigma 40 has enabled Perry to decrease the weight of the chamber by 1,650 lbs. resulting in fewer limitations due to weight restrictions.
The SIGMA 40 hyperbaric chamber system features:
A 40.5" internal diameter cylinder
Cool and quiet treatment compartment
Patient controlled temperature
Adjustable stretcher and certified for patients up to 700 lbs.
Extra wide stretcher with patient safety handrails
Gurney adjustments of 15°, 25°, 35°,45°,  55°, and  57 ½°
Optional 22" flat screen TV with CD and DVD features
Intrinsically safe two-way communications system
Building Service Requirements
The following requirements must be met for proper operation of the SIGMA 40 Monoplace Hyperbaric System.
Building must adhere to construction requirements specified in NFPA 99, Health Care Facilities.
Optimal patient comfort is achieved if the room is maintained at 68°-72° F (20°-22.2° C).
Flooring should not produce static electrical discharge. Carpeting is not recommended. Conductive flooring is preferred but not required.
Air/Oxygen Supply: 50-90 psi @ 40 scfm (3.4-6.2 bar @ 1130 lpm). Pressure gauge and shut-off valve installed in accessible location in both air and oxygen lines. Termination to be 3/4" female NPT, 2 feet above floor for connection to chamber supply line. Installation to be in accordance with publication CGA G-4.1.
Exhaust Line: One and one-half inch nominal diameter copper (minimum). The exhaust line should be run to the exterior of the building no less than eight feet above the chamber level in an area where no potential source of ignition or fuel exists. The exhaust line should be installed so as to obviate entry of rain or foreign objects. The termination in the chamber room must be 1-1/2″ NPT (F), located 2 feet above the floor for connection to the chamber exhaust hose.
Electrical Service: 110 VAC outlet for communication system power supply and maintaining charge on 12 VDC backup battery.
Chamber Ground: Chamber grounding should be in accordance with NFPA 99, NFPA 70, National Electrical Code, grounding and local electrical codes. Additional grounding instructions shall be provided as required.
The Sigma 40 is supplied with all necessary hoses and fittings to easily connect to the customer provided services described above. All building services should terminate within three feet of the foot of the hyperbaric system.
SIGMA 40 hyperbaric chamber system Technical Specifications:
Dimensions
Width
46 in. / 1.168 meter
Length
105 in. / 2.667 meter
Height
68.75 in. / 1.746 meter
Internal Diameter
40.5 in. / 1.029 meter
Internal Length
93 in. / 2.362 meter
Internal Volume
69.3 cu. Ft. / 1.962 cu. meter
Weight
2850 lbs. / 1293 Kg

Pressures

Maximum Operating Pressure
30 psi / 3 ATA (2.07 bar)
Design Temperature
32 F to 100 F / 0 C to 38 C
Oxygen Supply Pressure
50 to 90 psi / 3.45 to 6.2 bar
Oxygen Supply (Peak) Flow
40 scfm / 1130 lpm
Ventilation Rate
4.4 to 13.6 scfm / 125 to 385 lpm
Pressure Change Rate
1 to 5 psi/min / .07 to .34 Bar/min
Emergency Depressurization Rate
3ATA to 1ATA in 120 sec
Gurney Adjustments 15°, 25°, 35°, 45°, 55°, 57½°
All Perry systems meet or exceed current requirements of ASME, PVHO-1, NFPA-99 Chapter 20, 21 Code of Federal Regulations, Chapter 1, Part 820 and are registered with the National Board of Boiler and Pressure Vessel Inspectors.