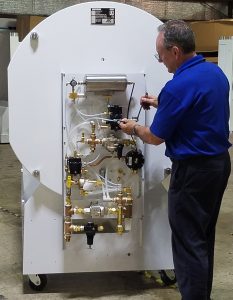 Annual Preventative Maintenance Service:
 Includes:
Thorough servicing of chamber and components
Certificate of Annual Service
Detailed service report including checks performed, findings, and corrective actions taken
Facility Safety Review & Report
In-Service Training Session & Certificate of Attendance
The annual chamber maintenance is required for continued safe reliable operation of the HBOT chamber. Areas covered include but are not limited to:
Door permission system / locking device
Communication (Intercom) and entertainment system
Inlet filters & elements, exhaust filters and screens
Verification of depth gauges and readings
Check and adjust compression and decompression timing, idle pressure, and pressure relief systems
Gurney and rail system
Main Door/Hatch and Seal
Polishing of minor scratches
Emergency decompression function and timing
We offer Gold and Platinum multi-year discounted service plans.  See your sales rep for details.