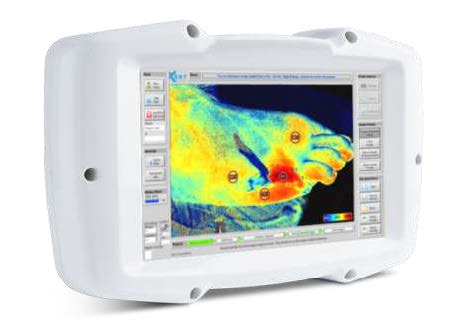 Immediate real time visualization of tissue oxygen saturation without the need for patient contact or injectable dyes. Assess patients preoperatively, intraoperatively, postoperatively, and in clinics, to identify and track the viability of tissue in wounds or reconstructive surgery.
SnapShotNIR Overview PDF open_in_browser
Rapid identification of healthy and at risk tissue which aids and supports surgical decisions. Begin assessing immediately. No waiting for injected dyes, set-up, or additional personnel. Simply and quickly image patients and repeat as desired. Customize your surgical procedure to your patient and assess tissue viability in all care settings.
Kent's multispectral device provides images of deoxygenated hemoglobin, oxygenated hemoglobin, and total hemoglobin in addition to the resultant StO2 images. These tools combined can help distinguish between arterial or venous insufficiency and guide the surgeon to corrective measures preoperativly, intraoperativly, postoperativy, and in the clinic. Ultimately, determining a skin flap has limited blood supply earlier may lead to less patient suffering and reduced healthcare costs.
Features of SnapShotNIR:
Precise assessment of tissue oxygenation compliments surgical judgement
Rapid identification of healthy and at risk tissue supports surgical decision making
Advanced and non-invasive technology, requires no injectable dyes or patient contact for simplified surgical workflow and lower costs
Accurate and unlimited repeatable imaging with no concern about dye toxicity or dye oversaturation
Mitigate risks early and identify healthy, damaged and necrotic tissue